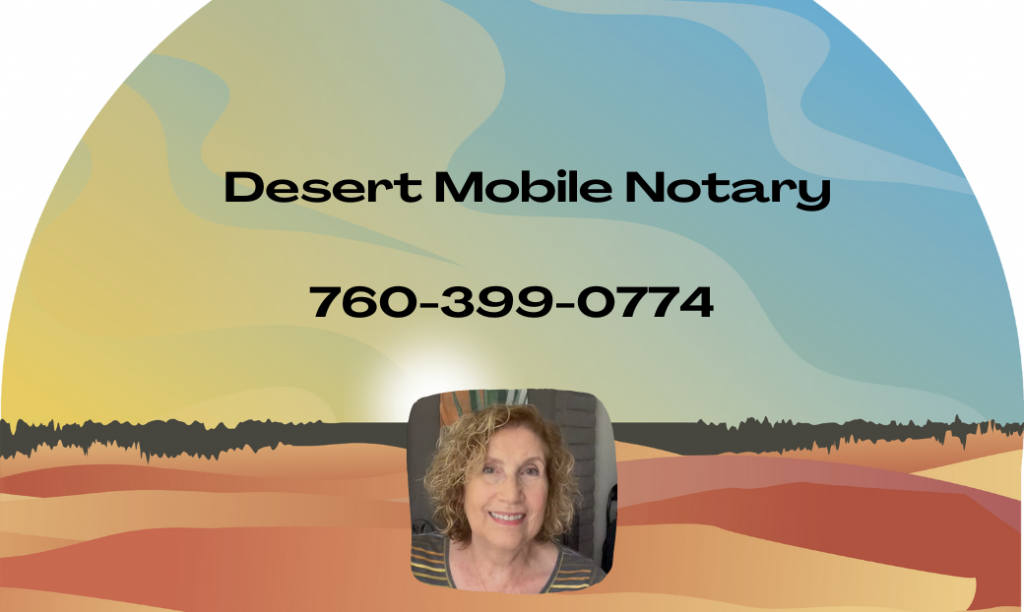 Desert Mobile Notary is a 7-day mobile notary service located in the greater Palm Desert, California area. We service the Coachella Valley from Palm Springs to Indio. Call, email or text to schedule an appointment for service, 7 days a week, or last minute when you need a mobile notary.
We offer fair and competitive rates, accept all forms of payment and can usually get to your location in an hour or less. Last minute appointments are never a problem!
Your Notary Needs
At Desert Mobile Notary Services, we are bonded, insured and certified loan doc signers. We always carry up-to-date Acknowledgments and Jurats, and also offer Power of Attorney and Advanced Health Care Directive forms.
Other services we provide are:
Loan Document signings with escrow pick-up/drop-off
Power of Attorney Forms; General, Durable, & Limited
Minors Consent to Travel
Presentment & Document Custodian Services
Vehicle Impound Release
Deed of Trust
Medical Directives
Affidavits
Requests for Birth Certificates
Brokerage Agreements
Health Care forms
DMV forms
Request for Duplicate Marriage License
Trust Acknowledgments
Call, text or email

 
760-399-0774
Your Convenience
If you don't have access to a printer, you can have your documents emailed to us. We'll print them for you and arrive at your appointment with your documents ready to be signed. Need your docs back fast? We can Fed-EX. Any other special requests? Let us know!
Desert Mobile Notary is easy to reach and we offer lightning-fast arrival times. We can usually get anywhere in our service area within an hour or less and always offer weekend and nighttime appointments.
Because we are a traveling notary service, we schedule appointments whenever and wherever it is most convenient for customers in our service area—at your home or office, hotels, retirement homes, escrow offices, banks, movie production sets, doctor's offices, brokerage offices.
Credit cards, Paypal, personal or business checks, and cash are accepted for notary service payments.
Our Experience
With a decade of signings in the Coachella Valley, we maintain a reputation as being knowledgeable, thorough and reliable. We guarantee your signing appointment to be pleasant and hassle-free, and handled with the utmost professionalism. We're proud of the competent service we have provided in since 2010 and we make sure your documents are perfectly and promptly executed and delivered every time.

All signings are fully discreet, professional, and confidential. You can trust Desert Mobile Notary Services to handle private matters, whether it's in your home, office or institution.
Call, text or email: 760-399-0774
jean@desertmobilenotary.com